Go directly to: Frequency response & impedance curve or see
Technical data OW I (D2094-8708-03R)
High End 3/4" SOFT DOME TWEETER
"OW I"
Part No.: D2094-8708-03R / OWI
by Hiquphon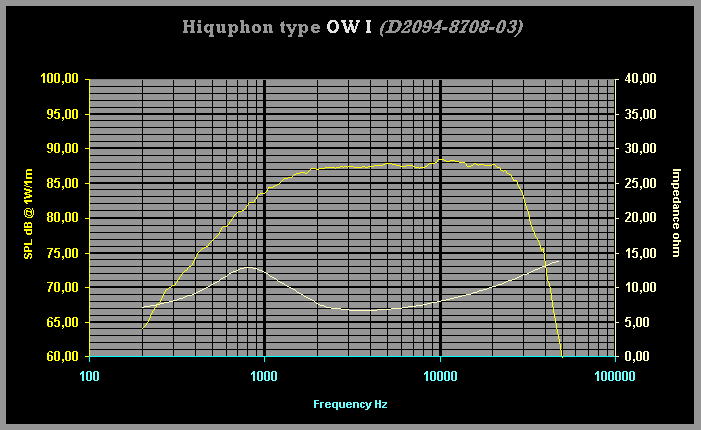 Soft dome tweeter (3/4") offering a unique broad banded frequency response, great analytical capability and a medium-to-high sensitivity.
Also including one of the finest dispersion characteristics possible.
Unique stereo perspective, as they come in matched pairs selected within 0.5 dB throughout 2-20 kHz.
Excellent choice for a 2-way High-End speaker systems using an equal high-quality mid/bass with a suitable matching sensitivity.
Excellent with 3-way High-End speaker systems in general.
Originally designed for domestic speakers but now widely used in carfi as well!
Also used with great success in music studios.


Special features:

Excellent frequency linearity 2 - 20 kHz +/- 1 dB typical
Excellent phase linearity
Smooth roll-off at high frequencies
Low and well controlled resonance frequency
Well controlled damped low frequency response, soft raising
Very broad-banded (2.0 kHz to 27 kHz)
Fast transient response
Very low distortion
A-periodic damped moving system
Exponential phase-correction horn-loaded
Saturated magnet gap for low magnetic distortion
Perfect sealed housing
Heavy duty connectors for 2.5 mm2 lead wire
Excellent, mechanical robust, non-vibrating, soldering contact
Shock absorbing construction
Matched pairs within 0.5 dB in frequency range 2-20 kHz (OW types only)
Beautiful sound capabilities

to music with love...